Village of Wollombi Historic Walks
Village of Wollombi Historic Walks Historical Wollombi 1km – An easy walk that takes in the historic buildings and surrounds of Wollombi, a map is available at the Wollombi Museum. Wollombi Brook 1km – A gentle walk that follows the Wollombi Brook, beginning at the Wollombi road west of Cemetrey
Convict Trail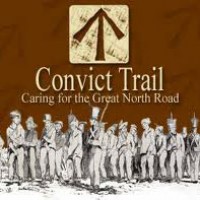 The Great North Road Extending north from Sydney to the Hunter Valley, the Convict Trail follows the route of the 240 km Great North Road, built between 1826 and 1836. Most of this road continues to be used today, offering an alternative, slower paced scenic route between Sydney and the Hunter, where one can explore the brilliant engineering works created by hundreds of convicts - many working in leg-irons. Relics such as stone retaining walls, wharves, culverts, bridges and buttresses can still be seen along the entire length of the Great North Road - in Sydney suburbs like Epping and Gladesville, at Wisemans Ferry or Wollombi, Bucketty or Broke, or when walking in Dharug and Yengo National Parks.
Great North Road Walks
Walking and Cycle Tours The 42km section of the original road between Wisemans Ferry and Mt Manning is called the Old Great North Road and is closed to motorised traffic. Here you can explore and examine the fine convict relics on foot or mountain bike, with a variety of routes and destinations catering for all levels of interest, from people who enjoy a leisurely 1 hour stroll, to those who want the pleasure of full-day and overnight hikes.